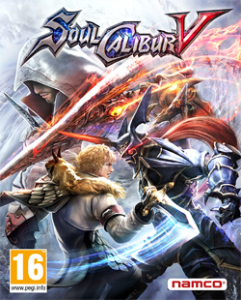 I have never been a big fan of Fighting Games. I've always placed the genre below Action Adventure, RPG, and FPS games in my own preferences. That said, I have always been exposed to them. Growing up, my brother was a pretty big fighting game fan. I can vividly remember growing up with Street Fighter, Tekken, and Virtua Fighter alongside Zelda, Sonic, and Mega Man. And I do enjoy some of those fighting games, though I'm certainly not the best at them.
Soulcaliber is definitely a series that has earned a place as one of my favorite fighting game series. While I've never had the chance to play the first game in the series, Soul Edge (AKA Soul Blade), my interest was almost instantly grabbed by the first Soulcaliber game for the Dreamcast. A fighting game which gave it's characters weapons. This was what really caught my attention- a fighting game where every character didn't simply punch and kick their way to victory. In addition to the new variety in fighting style, Soulcaliber also introduced (I believe) the 8-way run 3D environment.
It was those games which paved the way for a successful and generally very well-recieved series. So how does this, the Fith-numbered (eighth overall), game of that series hold up?